Safe Streets for All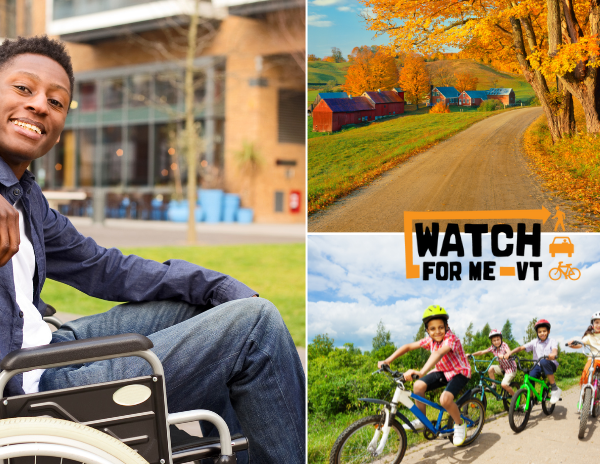 Watch for Me VT: a Statewide Driver, Pedestrian, and Cyclist Safety Program
We all share the responsibility to keep our roadways safe. To save lives, we have to watch out for each other!
Motor vehicle crashes are a leading cause of injury in Vermont. People walking, biking and rolling are more vulnerable to injuries and death from vehicles when using our roadways.In Vermont, an average of 6 pedestrians die on our roads each year, and around 130 are hospitalized. An average of 1 cyclist dies on our roads each year, and around 171 are hospitalized. But these deaths do not impact populations across Vermont equally. From 2011-2020, 51% of pedestrians killed on our roadways were 60+.
But, these injuries and deaths are preventable. The Watch for Me VT is a statewide campaign aimed at reducing the number of bicyclist and pedestrian injuries and deaths on our roadways through awareness, education, and enforcement. Learn more about the Watch for Me VT program and find more information on how to walk, drive and ride your bike safely by checking out crash data, toolkits, resources on these webpages.
For more information on active and safe transportation for youth and families through your local Safe Routes to School and Way to Go! to School programs.
Recent Updates
Be Bright at Night Reflector Pilot Program
This winter, the Watch for Me Program is working with six of the nine Medical Reserve Corps (MRC) units and community partners to raise awareness of road safety issues and promote driver, pedestrian, and cyclist safety messaging. MRC volunteers will also be at events and locations across the state handing out free reflectors (while supplies last).
This is a pilot program. We are currently exploring options to expand the program statewide in 2023. If you don't see a location near you, stay tuned for more locations in 2023. Sign up for updates about this pilot program and future events.
Learn more about the Be Bright at Night Reflector Pilot Program.
Vermont Healthy Communities Technical Assistance Pilot Program 
The Vermont Department of Health (VDH) is partnering with the Vermont Department of Housing and Community Development (DHCD) to implement a Health Equity and Community Design Technical Assistance (TA) Pilot. The TA Pilot will provide extra capacity and resources to communities to develop healthy community design and placemaking plans, ideas, and projects that center on equity. The TA will be available to all eligible communities to help advance healthy community design and health equity projects. The TA will also help prepare communities that are interested in, but not yet ready to apply for, DHCDs Better Places placemaking grants.
Learn more about the pilot program or sign up for technical assistance. 
Sign up for the Watch for Me VT Newsletter
Sign up for our newsletter for updates about our Watch for Me VT programs, events, and other bike/ped safety information!